Aware Leadership – Foundation Seminar
for upcoming foundation seminars see here
Seismic Shift – 3 Day Seminar
---
Participants Skill Development Offered
Leadership competencies such as
emotional intelligence, self awareness, self-regulation, empathy and compassion
Improved self management, strategic, management and cooperative competencies
Technical leadership skills & Practical leadership practices
Learning Objectives
describe the awareness-based leadership framework
adapt, utilize and apply concepts & practices for day to day leadership work
work towards more skillful achievement of high performance teams and results
Who should attend
all levels leaders (profit and non-profit), all levels project and program leaders
Format
interactive teaching in a comfortable business casual setting;
roundtable and one to one dialogs, practice and reflection breakout sessions
Duration
The foundation seminar is a 3 day long seminar (08:45 – 17:00 each day)
Seminar Leader
---
Day 1 – Aware Leadership Functions

08:45 – 09:00  Arrival, Registration & Welcome Coffee, Tea & Juice
09:00 – 09:45  Introductions and Opening Remarks
09:45 – 11:00  Effective and Sustainable Leadership
Awareness of unskillful leadership
The making of effective and sustainable leadership
Change and transformation towards skillful leadership
11:00 – 11:45  Break – Awareness Exercise
11:45 – 13:00  Functions of Aware Leadership– Part I
Technical – Quality Mgmt., Best Practices, Management
Collaboration – Communication, Foster, Resources
13:00 – 14:00  Hot Buffet
14:00 – 15:30  Functions of Aware Leadership– Part II
Strategy – Vision, Target, Design
Self – Leverage, Time / Priority, Learning & Reflection
15:30 – 16:00  Afternoon Tea
16:00 – 17:00  Functions of Aware Leadership
Reflection & Experience Exchange
---
Day 2 – Aware Leadership Factors

08:45 – 09:00  Arrival & Welcome Coffee, Tea & Juice
09:00 – 10:00  Empowering Factors of Aware Leadership
10:00 – 11:00  Aware Leadership Factor – Wisdom
Understanding    Reflection
11:00 – 11:45  Break – Awareness Exercise
11:45 – 13:00  Aware Leadership Factor – Ethical Conduct
Communication    Actions    Livelihood
13:00 – 14:00  Hot Buffet
14:00 – 15:30  Aware Leadership Factor – Concentration
Mindfulness    Effort    Evenness
15:30 – 16:00  Afternoon Tea
16:00 – 17:00  Empowering Factors of Aware Leadership
Reflection & Experience Exchange
---
Day 3
08:45 – 09:00  Arrival & Good Morning Coffee, Tea & Juice
09:00 – 10:00  Leadership Functions and Factors Intersections
10:00 – 11:00  Intersection 1*
11:00 – 11:45  Break – Awareness Exercise
11:45 – 13:00  Intersection 2*
13:00 – 14:00  Hot Buffet
14:00 – 15:30  Intersection 3*
* The Intersection sessions are interweaving the Aware Leadership factors with the functions by examining their interrelationships and interdependencies. These sections deepen the understanding and provide additional in-depth practices and learning opportunities.
16:00 – 17:00  Aware Leadership Functions and Factors
Reflection – Seminar Feedback – Farewell
---
Seminar Venue Details (sample – here from the London seminar)
The Royal Foundation of St Katharine (RFSK)2 Butcher Row
E14 8DS, London
United Kingdom
Tel.: +44 300 111 1147
Location
An extraordinary oasis minutes from the city.Seminar room has natural light, and windowsonto RFSK's beautiful gardens. High speedunlimited Wi-Fi is available free of chargethroughout St Katharine's.
Directions
Nearest Underground Station:
Limehouse (DLR line) – next to the hotel
St Katharine's is easily accessible via the excellent public transport routes which service London.
St Katharine's is situated at Limehouse Station on the Docklands Light Railway (DLR), which runs directly to Bank and Tower Gateway stations (5 minutes) where the London Underground can be joined.
For more details on direction by bus, taxi and car or arriving from London's airports (Heathrow Airport – LHR [32km), City Airport – LCY [8 km], Gatwick Airport – LGW [71 km]) visit:
http://www.rfsk.org.uk/contact/get-here
Note: To avoid any confusion – these venue details are provided for purpose of planning and providing information of where the seminar will be held. By no means is there any endorsement implied from The Royal Foundation of St Katharine for this seminar.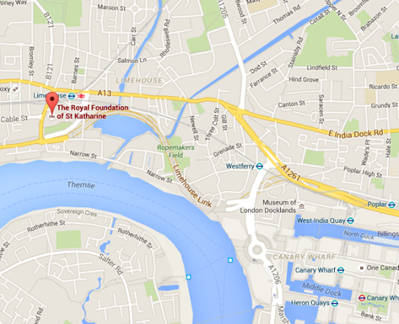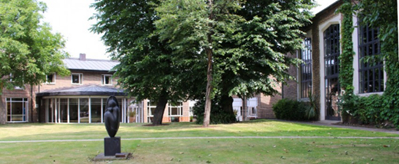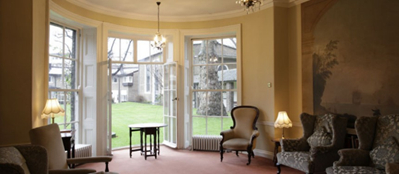 ---
FAQ – Frequently Ask Questions
Do I need identify myself at the first day during registration and is there an age limit for the event?
Please do bring a form of identification, e.g. drivers license, ID card, passport
You must be at least 18 year old to attend this seminar.
How do I get to the event and what about parking?
Please read the seminar venue details above about how to get to The Royal Foundation of St Katharine.
There is a car park available at RFSK, however do call the hotel to make sure there are available spots during the seminar (contact details of RFSK are listed in the seminar venue details above
What shall I bring to the event and what not?
We would advise you to leave your work laptop at home. Mobile phones are allowed, but we ask seminar participants to mute them while the seminar is in session.
How can I contact the organizers if I have questions?
You may contact Carpe Momentum Advisory any time with questions on the Aware Leadership seminar under registration@aware-leadership.com
Is my registration / my ticket transferable?
Please refer to the terms and conditions listed below.
Can I update my registration information?
Yes you may.
Do I need to bring the printed ticket?
Yes, please to bring the printed ticket and a form of identification.
What are the refund conditions?
Please refer to the terms and conditions listed below.
The name on the registration / ticket does not match the name of the participant . Is this a problem?
You can update your registration information. Please do make sure your name is written correctly. If you have any issues, please contact us at registration@aware-leadership.com
---
 Seminar Terms and Conditions / Refund Policy
Fees are in inclusive of seminar materials, arrival mini-breakfast, afternoon tea and hot buffet lunch.
Accomodations (in case required) are not included!

Payment Terms: Following completion full payment is required within five (5) days. PLEASE NOTE: payment must be received prior to the seminar date. A receipt / ticket will be issued on payment. Due to limited seminar space, we advise early registration to avoid disappointment.  A 50% cancellation fee will be charged under the terms outlined below. We reserve the right to refuse admission if payment is not received on time. The client agrees to receive final invoice electronically
Cancellation / Substitution: Provided the total fee has been paid, substitutions at no extra charge up to 14 days before the seminar are allowed. Substitutions between 14 days and the date of the seminar will be allowed subject to an administration fee of equal to 10% of the total fee that is to be transferred. Otherwise all bookings carry a 50% cancellation liability immediately after the ticket has been issued (as defined above). Cancellations must be received in writing by mail or fax six (6) weeks before the seminar is to be held in order to obtain a full credit for any future Carpe Momentum seminar. Thereafter, the full seminar fee is payable and is non-refundable. The service charge is completely non-refundable and non-creditable. Any fees / service charges incurred by Paypal payments are also completely non-refundable and non-creditable. Payment terms are five days and payment must be made prior to the start of the seminar. Non-payment or non-attendance does not constitute cancellation. By ordering the tickets for the seminar via Exbrite, the client agrees that in case of dispute or cancellation of this contract that Carpe Momentum Advisory will not be able to mitigate its losses for any less than 50% of the total contract value. If, for any reason, Carpe Momentum Advisory decides to cancel or postpone this seminar, Carpe Momentum is not responsible for covering airfare, hotel, or other travel costs incurred by clients. The seminar fee will not be refunded, but can be credited to a future seminar. Seminar content adjustments are subject to change without notice.
Copyright: All intellectual property rights in all materials produced or distributed by Carpe Momentum Advisory in connection with this seminar are expressly reserved and any unauthorized duplication, publication or distribution is prohibited.
Data Protection: Client confirms that it has requested and consented to Carpe Momentum Advisory retaining client information on Carpe Momentum Advisory database to be used by Carpe Momentum Advisory, to assist in communicating products and services which may be of interest to the client If the client wishes to stop receiving such information please inform Carpe Momentum Advisory via email under registration@aware-leadership.com.
Important note: While every reasonable effort will be made to adhere to the advertised package, Carpe Momentum Advisory reserves the right to change seminar dates, sites or location or omit seminar features, or merge the seminar with another seminar, as it deems necessary without penalty and in such situations no refunds, part refunds or alternative offers shall be made. In the seminar that Carpe Momentum Advisory permanently cancels the seminar for any reason whatsoever, (including, but not limited to any force majeure occurrence) and provided that the seminar is not postponed to a later date nor is merged with another seminar, the Client shall receive a credit note for the amount that the Client has paid to such permanently cancelled seminar, valid for up to one year to be used at another Carpe Momentum Advisory seminar. No refunds, part refunds or alternative offers shall be made.
Governing law: This agreement shall be governed and construed in accordance with the law of Germany and the parties submit to the exclusive jurisdiction of the German courts in Frankfurt, Germany. However Carpe Momentum Advisory only is entitled to waive this right and submit to the jurisdiction of the courts in which the client's office is located.